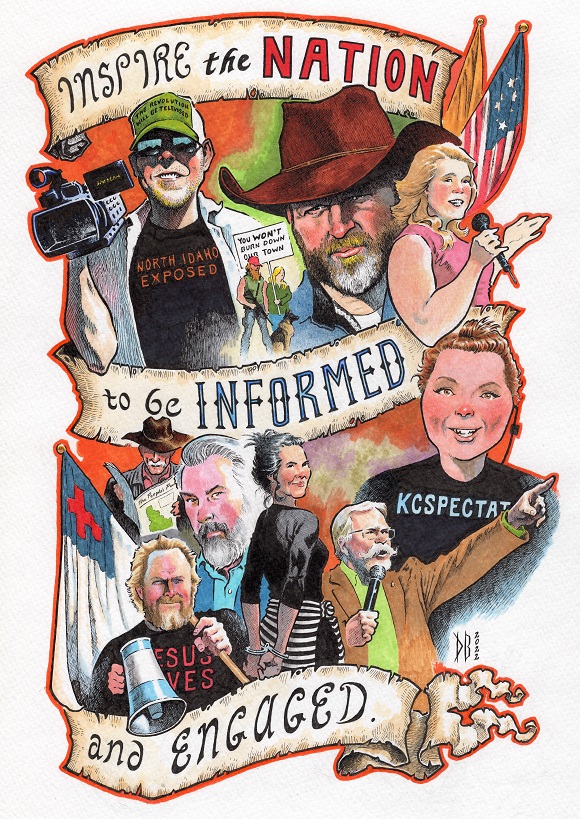 The People's Pen is now taking ads for its next 6 issues. A 3×2" business-card sized ad is $60 per issue. Bigger sizes are available.
The first issue should arrive to subscribers approximately December 21, 2022. Subsequent issues are expected to be released every two months thereafter. Depending on demand and advertiser sentiment, we may pivot to a monthly publication after the June 2023 issue.
Expected distribution is 1000-5000 copies per issue delivered to subscribers and distributors, mostly in North Idaho. There are times when we print as many as 125,000 copies of an issue, but those are only special circumstances we cannot guarantee.
A down payment locks-in price for all 6 issues. Due to increasing paper and fuel costs ad rates are expected to increase over the course of 2023.
Ad sizes and prices:
Business Card Size (3"x2") = $60, 6 issues = $360 down payment of $180, remainder due June 1, 2023.
1/8 page (9.5" x 1.9") = $180, 6 issues = $1080 down payment of $540, remainder due June 1, 2023.
¼ page (9.5" x 3.91") = $320, 6 issues = $2160 down payment of $1080, remainder due June 1, 2023.
½ page (9.5" x 7.94") = $640, 6 issues = $4320 down payment of $2160, remainder due June 1, 2023.
Full page (9.5" x 16") = $1280, 6 issues = $8640 down payment of $4320, remainder due June 1, 2023.
Back page (9.5" x 16") = $2560, 6 issues = $17,280 down payment of $8640, remainder due June 1, 2023.
For special needs and pricing, please contact ads@thepeoplespen.com
Please make all payments by December 12, 2022. Send cash, check or money order to:
The People's Pen LLC
P.O. Box 756
Coeur d'Alene, ID 83816
To pay online: https://paypal.me/thepeoplespen
Please send all artwork and inquiries to ads@thepeoplespen.com
All artwork should be delivered in .jpg, .pdf, .png, .psd or .tif format, 300dpi.
If you need artwork made, the additional cost will be equivalent to the size of the ad. So, if you need a eighth-page ad that runs once, you would pay $360 ($180 ad plus $180 artwork).
All advertisers will receive 10 copies of each issue which they may give away or sell (we suggest a retail price of $5). Higher level advertisers are entitled to more issues (eighth page advertisers can get 30 issues, quarter page 60 issues and so on). We will list your business on our website and periodically in the paper as a location customers can get the paper, if you desire.